Pakistan is certainly the most blessed land with natural beauty, metropolitan cities, rural areas, country side, mountainous hilly areas, rivers, waterfalls, sea and what not. Pakistan travel places make you discover different regional cultures and vacation spots. Some prefer metropolitan cities, and some like to visit culturally rich locations. Bigger cities like Karachi & Lahore attracts both the local and foreign tourists. Those who like to see the historical heritage can check out tourist places like Mohen Jo Daro, Taxila, and Harrapa. Mountain trekkers have K-2 and Nanga Parbat as their key interest. Both of these peaks are above 8000m.

Tourism industry is on boom as Pakistan has become the ultimate destination of holidays for both local and international tourists. Pakistan travel places in the North are truly rich in its tourism potential. With world's highest mountain peaks, some great lakes, biggest glaciers and the valleys of huge rivers, make Pakistan an agrarian economy.

Let's discover the best places to visit in northern areas of Pakistan in this article:
Neelum Valley, Azad Kashmir
Neelum Valley is located opposite to the Keran sector of Indian-held Kashmir. From the Chella Bandi Bridge – just north of Muzaffarabad – to Tau Butt, a valley stretches out for 240 kilometers; it is known as the Neelum Valley and is one of the finest tourist places in the country. It is definitely one of the most beautiful locations in our country. It hosts freshwater streams, lush green mountains, brooks, forests, and a river.
Muzaffarabad is administrative capital of Azad Kashmir. It is located at the point where Jhelum and Neelum rivers meet. Some tourist attractions here are: Red Fort surrounded from 3 sides by the Neelum River. Pir Chinasi is located at a height of 2900m. Drive through the road climbing above the town and it will take you to Pir Chinasi. Chikar Lake is a new attraction. Sudhangali is situated at a height of 2134m. If you are up for trekking, you can go to Bagh from Chikar and on to Ganga Choti which is an important mountain locally.
Neelum Valley runs parallel to Kaghan valley and its total length is 240 km. This valley is lush green, offers a lot of scenic views, water sports and trekking opportunities. Sharda Valley at a height of 1981m is popular for its scenic views. Kel is only a 19 km long valley located at a height of 2097m. It is the last camp if you go trekking to base camp of Sarawal Peak. On your way to Kel from Muzaffarabad you can visit Keran Valley, Kuttan Valley, AthMuqam and many other picturesque sites.
Sardari, Tao Butt, Halmat, Janawai are unspoiled and extremely beautiful village areas near the border. There are very artistic and attractive wooden houses in Leepa and Neelum Valley.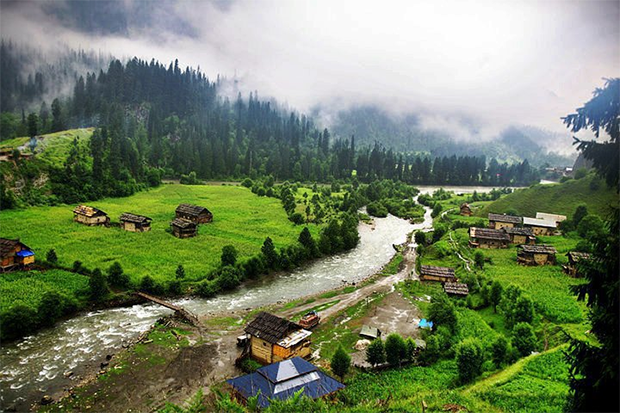 Murree
One of the most popular holiday destinations is just one hour away from Islamabad by road. Murree is certainly the most popular Pakistan travel places especially for residents of city life of Sindh and Punjab. It is located at 7250 feet above the sea level, and is a small 5 kilometers town spreads between Kashmir point & Pindi point. In summers, tourists find it a cool place, and in winters the hill station remains covered in snow.
Besides Murree, Galliat are most popular with the tourists. There are lots of reasons and opportunities in Galliat area including sightseeing which makes this region the favorite of majority. The most important factor that makes Galliat one of the first choices for local tourists is its accessibility. Being at a 1-3 hours drive from Islamabad, Galliat are accessible. Accommodation is probably one of the most important factors which bring a majority of tourists to Galliat. Hotels, private lodges and guest house of various standards are available here for proper accommodation. Recreation & amusement activities including horse riding, Chair lift ride & water parks etc.
Thandiani, Nathiagali, & Ayubia
Every Pakistani must have heard about these gorgeous places and visited before too. Thandiani is located at 8832 feet above sea level and is the third highest point in Galliat. Nathiagali, situated at 7500 feet, Ayubia & Khanaspur are another vacation spot visited by Pakistanis in huge numbers. Khanaspur is a tourist mountain resort towns of Hazara region. It is a settlement in the Ayubia region. Nathiagali–Thandiani trek covering Dagri at 9000 feet & Biran Gali 6300 feet can be the perfect trekking destination. These three are certainly the best places to visit in northern areas of Pakistan.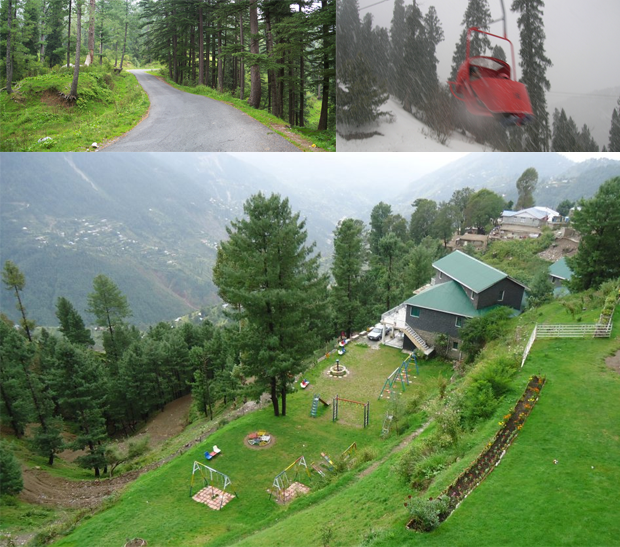 Naltar Valley
Naltar is situated at a drive of 2.5 hours from Gilgit. It is the destination for colorful lakes and is famous for world's tastiest potatoes cultivation. Covered with pine trees, this Naltar valley is truly mesmerizing place to visit for vacation.
Kaghan Valley
Gorgeous lush green landscapes with huge trekking opportunities. Kaghan Valley is one of the finest tourist places which are not something to miss. The valley is 92 mile long and is terraced from river to hilltop. Kaghan valley is mostly visited using Jeep safari. Travelling through the valley, you can follow the bends and turns of River Kunhar and witness the beautiful towns of Shogran, Kaghan and Naran. Basel at a height of 3,266m is a settlement for the Gujjars which has beautiful Pasteurs and great scenic beauty. Lake Lulusar is located just beyond Basel and it is a beauty to visit. Road from Basel leads to Babusar top which is the link and divider between Kaghan valley and northern areas of Pakistan.
Kunhar River is a beauty that can totally mesmerize you. Kaghan valley has many lakes which are equally beautiful. It also offers treks to snow covered peaks. Some of the most beautiful places in Kaghan are Gandhara Buddhist civilization, Balakot, Shogran, Siri and Paya Meadow. Naran is a popular destination located at 2405m. Lake Saifulmaluk is probably the most important place in Kaghan valley. It is located at a height of 3200m where the peak of Malka Parbat (5390 m) is mirrored in the crystal clear waters of Saif ul Malook. You must visit these amazing Pakistan travel places whenever you get time from your busy schedule.
Swat valley
Swat valley, the Switzerland of Pakistan is one of the most beautiful valleys. Most of the tourists visiting Swat get the first taste of its culture in Mingora. It is located at the bank of River Swat, and is a town known for its extremely tasty trout fish. River Swat is a beauty to watch. Mingora and Saidu Sharif are capital cities of Swat area. They are located at 3250 feet. Swat is surrounded by Himalayas and Hindukush. The valley is full of fragrant fruit orchids, rivers, gushing streams and some glaciers. Other popular spots are Bahrain at 4500 feet, Kalam at 7250 feet above sea level.Falakser, the highest peak of this region which has a height of 20,500 feet is a beautiful sight. Some moderate or difficult trekking routes are Lake Mahodand, Malamjaba at 7000 feet, and some Buddhist archaeological sites.
This year, leave all your work aside, take a break from hectic schedules, and plan a trip to any of these best places to visit in northern areas of Pakistan.